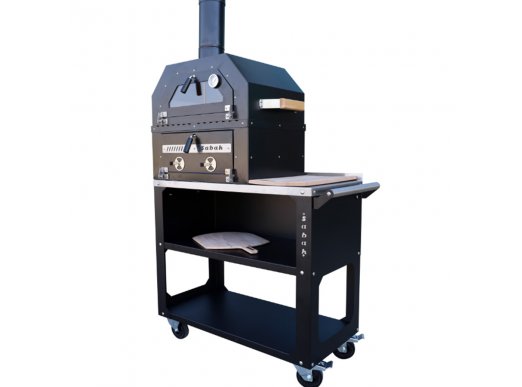 Features ;
You can carry it wherever you want thanks to its wheeled trolley.
When you want to use the barbecue feature, you can remove your portable oven and start using your barbecue regularly.
Oven specifications
- The floor of the oven is covered with firebrick.
- Thanks to the heat-resistant glass on the cover, you can see inside.
- Thanks to the Heat Indicator, you can measure the temperature inside the oven.
- Wooden oven shovel is a gift.
- You can use trays or earthen pots in the oven.
- The inside and outside of the portable oven are covered with heat resistant enamel.
Grill Features
- Since the entire barbecue is covered with matte enamel, it does not contain any substances harmful to health
- It is easy to clean.
- Thanks to the large cover in front of the barbecue, you can add coal or mix your coal without taking the grill on it.
- Thanks to its side handles, you can easily carry your barbecue and use it wherever you want.
Weight: 69 kg
Oven Dimensions: 40 x 15 x 36 cm
Combustion Chamber : 30 x 13 x 46 cm